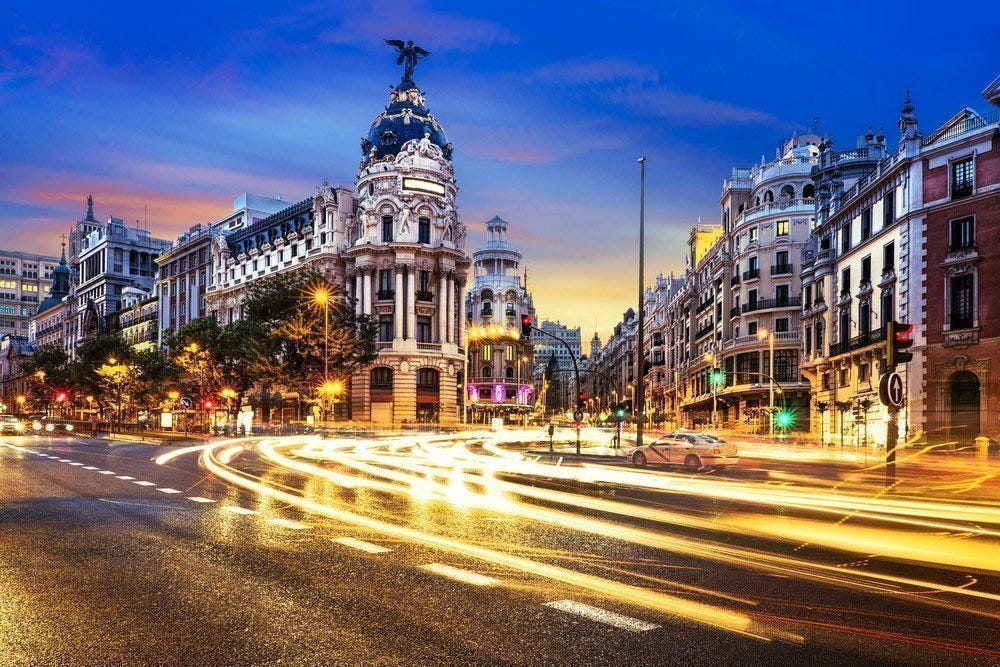 It's been four months since I moved to Madrid. I've never fallen this hard for a city before. It's a weird feeling. Most of it is personal, I feel that Madrid is my very own, carefully packaged, personalized gift from the Universe. It's like at 31, it's the answer to my eternal question "So is there more to life than this?". It's no secret that 2016 had me dealing with a huge, life-changing blow which annihilated all my life plans and had me questioning everything – divorce. On the bright side, that ordeal made me realize that I had a rock solid support system made up of my family and friends. It also made me re-discover spirituality through meditation. And it forced me to tap into my inner strength, and re-invent myself as a person. There is nothing as powerful as the willingness to rediscover happiness. And just like that, Life gave me a silver lining – a job in Madrid.
I did Learning Spanish 1 at university 10 years ago. At that time, it seemed like an easy way to get good grades and understand Shakira songs. And I absolutely loved tapas and paella. Little did I know that these would actually come in handy 10 years later. With my biligual English/French, and some Hindi speaking skills, I never found communicating in foreign countries particularly difficult, until I came to Madrid. It was strange to realise that there was a whole world out there, about one third of the world's population according to locals, who did not care the slight bit about hablar Ingles or speak English (Speaking English was discouraged under the dictatorship of General Francisco Franco, so many people from the older generation speak zero English). So, out of need to make myself understood in the bus and in the supermarket, and out of respect for the culture, I am seriously learning Spanish. Even if mi espanol es muy basico ahora (my spanish is very basic at the moment), one of my goals for 2017 is to considerably improve it. It may be close to French but Spanish people speak very quickly and have an accent. And some of the letters ("v", "c" and "j") are pronounced differently. It's lovely to listen to, but without practice it's hard to adopt. A few useful words I have picked up so far, which Spanish people use often is Vale (OK) and Claro (Of course). Oh and particularly useful for ladies visiting Spain, Guapa means "Pretty" or "Beautiful" 😉 .The best way to learn is language exchange groups where you speak English for some time for those who want to learn English and the rest of the time they help you with your Spanish. I have never realized it before, but it took me 15 years of classes, reading, movies, television, and speaking to master English and French. Picking up a completely new language at 31 is proving to be hard, but it's a welcome challenge. I've been telling myself that watching Narcos helps, as half of it is in Colombian Spanish. I don't think I will be using La Puta de tu Madre anytime soon in my everyday conversation, but it's fun to decipher the Spanish words in the series. I've also resorted to reading to improve my vocabulary and grammar (yes the verbs and tenses are as bad as in French) – bilingual Spanish-English books are very helpful. But the best way is to just go out there and speak to people, and not care about the risk of making a fool of yourself. Spanish people are very nice anyway.
Spain is a world in itself, with rich cultural history. There are many Latin American people in Spain, the obvious consequence of Spain having previously colonized these countries. People love and hate Christopher Columbus, depending on the region.Spain has its very own ski resorts, beaches, party islands, mountains, parks, you name it. Most people have no idea where Mauritius is. And there are not many Indian people in Madrid. So I mostly walk around feeling very exotic, which is something I never felt when I was living in the U.K.
In terms of political history, Spain has got its own issues for example with Basque and Catalan separatists. The country has been "run" by a fragmented parliament for the last couple of years (and has still been able to achieve economic growth). One of the biggest problem the country is having to tackle is the high unemployment rate (20% in 2016). And that is despite the fact that Spain has got many award-winning universities and that the average Spaniard seems to be well educated. According to locals, this is mostly due to the Spanish lifestyle.
"For Spaniards, work is just something that needs to be done in between tapas". This is something I read in El Pais newspaper, in an article about youth unemployment. True and not true, in my humble opinion. By the way the siesta is a myth, which does not happen in Madrid work life. Madrid is far from a financial capital. Banking may be big, but it's nothing as compared to a place like London. For those with office jobs, work starts at about 09 00 – 10 00. Lunch is at 14 00 – 15 00 (still getting used to that), and depending on work loads, finishes at 18 00 – 19 00. Then Spaniards usually have a light dinner at 22 00 – 23 00 then go to bed at about 00 00 – 01 00. Madrid is a nocturnal city, going out, having drinks and tapas is an essential part of the lifestyle. The metro is very clean and efficient and runs till 01 00 and even later on Friday and weekends.
Football is a big part of the life of Spaniards, especially Madrilenos. Most people prefer to support Atletico de Madrid or FC Barcelona over Real Madrid as the latter is the obvious winner and it's no fun to support such a team. When there is a match, roads are closed, the Guardia Civil oversee the crowds on horseback and the atmosphere is electric.
Madrid has a rich cultural scene with an impressive number of museums, the entry to some of which are free on certain days. Drinks are cheap with a the price of a glass of wine, sangria or cava (sparkling wine) ranging from EUR 2.50 to 5.00. Drinks are meant to be had leisurely with tapas (small portions of food or starters) before the actual dinner. Most of the time the tapas by themselves make me full, so no need for dinner. Free concerts, exhibitions, street artists are everywhere. It is a great place for those who are on a budget and culturally curious. This is why Spain is a favourite tourist destination for lower middle class / middle class Europeans. It is a relatively cheaper destination, and you still feel a real change of scenery.
Another thing I've noticed is that Spanish people are very serious about deportes (sports). Parks, gyms and running tracks are everywhere. Spaniards pay special attention to their grooming and physical appearance. I've realized that Spanish people have dark hair and chiseled features because of Arab influences. Eye candy everywhere :)) The average Spaniard invests a considerable amount of time in their hobby, whether it is skating / surfing, bailar (dancing, especially salsa), hiking or playing a musical instrument.
Spaniards also love their pets and take them out for walks three times a day. I've seen all kinds of dogs from dalmatians, Chihuahuas, huskies (my personal favourtie) and St Bernards. Madrid Ayuntamiento or City Council is very well organised in terms of recycling and cleaning, being one of the justifications of the high rates of local government taxes.
Many people fall in love with the Spanish way of life, explaining the phenomenal number of expatriates in Madrid – Europeans, Americans especially, looking to flee their stressful home cities for a better, more balanced lifestyle. After four months in Madrid, I have to say, I totally get it.